Nutrikit High Flow
Nutrikit High-Flow is designed to provide accurate fertilizer and acid control with
minimum expenses and intervention. The system is suitable for flow rates of
up to 400m3/h. Each dosing channel is equipped with a visual flow meter and
can deliver 50-1000 l/h of fertilizer or acid. EC & pH measurement and control is
optional and can be easily added to the system.
Quick-action dosing valves: 0.4sec on/off time
High-quality PVC fittings
Aluminum, corrosion-resistant frame with
adjustable legs
Standard Booster pumps: Lowara SV Series
Optional booster pump: according customer request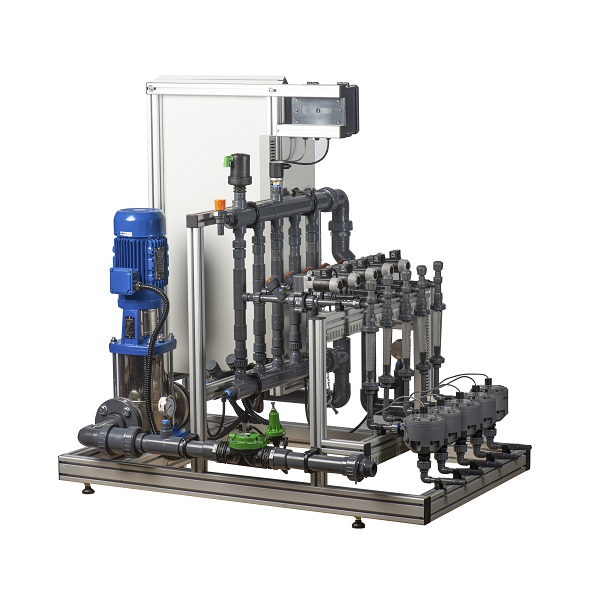 Benefits
Significant improvement in crop quality and yield
Reduction of fertilizer and energy consumption
System Reliability and Longevity
Easy to install and maintain system
Rapid Return On Investment due to accuracy and fertilizer saving
EC & pH Measurement and Control
In-house Development
User Friendly Fertigation Controllers
Covering wide range of applications from 0.1Ha to 200Ha of Open fields,
Orchards, Greenhouses Etc'
After Sales Service
Two years warranty
Features
Modular Nutrigation system
Built around Aluminum platform
Minimal investment requirement
Quantitative or proportional Fertigation capabilities
Accurate EC and pH control
Minimum maintenance required – Venturi injectors with no moving parts
Highly accurate dosing channels
Fast and efficient Fertigation recipe adjustments
Manual or fully automated operations
Easy integration into existing irrigation systems with third-party irrigation controllers
Technical Specifications
Features
Standard
Optional
Controller
Talgil Dream II, Talgil Sapir, Munters Greenfiled, Munters ECO,
, Motorola Irrinet, Gavish
HORTIMAX, Third party
EC&pH Control
Single EC&pH control
Dual EC&pH control
Main line flow rate
5m³/h – 400m³/h (20gpm – 1800gpm)

calculated according to dosing ratio of 2,5l/m³ (fert/water) per dosing channel

Dosing channels

PVC Venturi: 50-1000l/h
Visual Area flow meter: PVC
Needle valve for Venturi calibration
Angle model Non-Return valve
Quick action dosing solenoids
Gasket: EPDM and VITON

PVDF Venturi: 50l/h

Gaskets and O-ring: VITON

Dosing booster
Lowara 15SV05, 3*380-415V/50Hz, 4kw

Lowara 15SV03, 3*440-480V/60Hz, 4kw

 15SV##, According to main line pressure
System pressure
2-5 Bar

(30-75 psi)

Up to 10 Bar

(145 psi)

Inlet/Outlet connection
PVC Adaptor union: 50*1.5" male threaded
Inlet: 1.5" Pressure reducing valve
Outlet: 1.5" Pressure sustaining valve
Fertilizer
channels
connection
16-18mm Hose Nozzle with adaptor
Fertilizer & Acid channel range
| | | | |
| --- | --- | --- | --- |
| Type | Venturi flow rate | Dosing valve | Optional – Fertilizer meter |
| Electric | 100-1000l/h (26-265gph) | FIP S22 | 1″ Arad PB model |
| Hydraulic | 100-1000l/h (26-265gph) | Amiad Normally Close + Baccara Solenoid | 1″ Arad PB model |
| Manual | 100-1000l/h (26-265gph) | Manual Needle Valve | 1″ Arad PB model |
Package size
| | |
| --- | --- |
| Length | 140 cm (55″) |
| Width | 110 cm (43″) |
| Height | 150 cm (59″) |
| Weight |  190 kg (420lbs) |