Manual Y Disc Filter
The Y filter is an attractive and economic solution for Landscape application as well as Municipal application.
Its varies from small size of ¾" to large size of 2". By utilizing the Y shape, it will fit most of installation infield.
The Y filter is the perfect solution for fertilizer usage where soluble fertilizer is being mixed with water and
stored in a fertilizer tank.
Features and Benefits:
Main filter for municipal projects and landscape irrigation
To be installed in the Fertilizer tank outlet
Sustainable solution, corrosion free and long lasting
Same filter can be assembled with Screen element or Disc element
No need for any tools to open the filter for cleaning
High range of flow rate with very low head loss
Available in BSP and NPT connection
General data
Filtration grade available at: 130µ, 200µ, 420µ
Maximum working pressure: 8 Bar (116 psi)
Maximum working temperature: 60ºC (140ºF)
pH Range: 3 – 12
Row materials
Filter housing and lid: Polypropylene
Seals: NBR
Filter discs: Polypropylene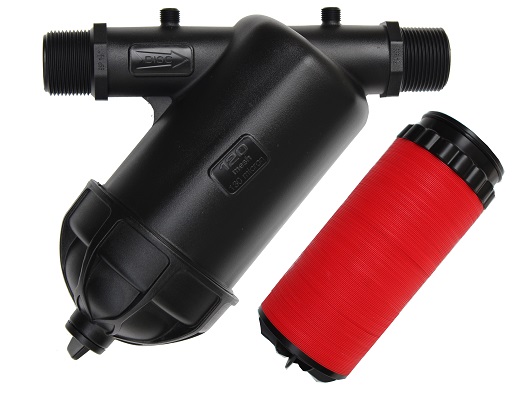 Specifications
| | | |
| --- | --- | --- |
| Filter size |  Filtration area |  Maximum recommended flow rate |
| 3/4″ |  192cm² | 5m³/h |
| 1″  | 192cm² | 6m³/h |
| 1.25″  |  334cm² | 15m³/h |
| 1.5″ |  334cm² | 20m³/h |
| 2″ |  490cm² | 25m³/h |
Head loss @130 micron (120 mesh)
Filter size
2m³/h

(8.8GPM)

5m³/h

(22GPM)

10m³/h

(44GPM)

20m³/h

(88GPM)

25m³/h

(110GPM)

3/4″
0.10 Bar (1.45 psi)
0.50 Bar (7.25 psi)
1″
0.10 Bar (1.45 psi)
0.25 Bar (3.63 psi)
1.25″
0.10 Bar (1.45 psi)
0.20 Bar (2.90 psi)
0.50 Bar (7.25 psi)
1.5″
 0.10 Bar (1.45 psi)
 0.20 Bar (2.90 psi)
0.40 Bar (5.80 psi)
2″
0.50 Bar (7.25 psi)
 0.20 Bar (2.90 psi)
0.30 Bar (4.35 psi)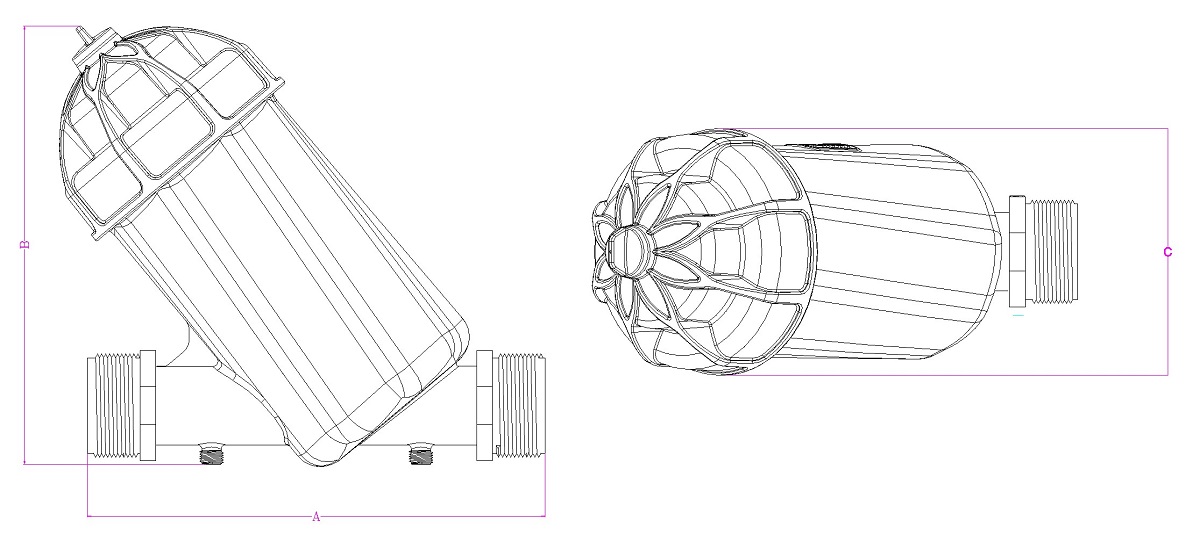 | | | | | | |
| --- | --- | --- | --- | --- | --- |
| System model | A | B | C | Gross Weight | Package Volume |
| 3/4″ |  180mm | 180mm |  100mm |  0.39 kg | |
| 1″ |  180mm |  180mm |  100mm |  0.43 kg | |
| 1.25″ |  250mm | 220mm | 120mm |  0.96 kg | |
| 1.5″ |  250mm | 220mm |  120mm | 0.96 kg | |
| 2″ | 262mm | 248mm | 290mm | 1.35 kg | |
| 2.5″ | 290mm | 260mm | 150mm | 1.45 kg | |
| 3″ | 290mm | 260mm | 150mm | 1.45 kg | |